Look for the Station with the Red Roof!
We are a family owned and operated business that has been proudly providing quality automotive services
and products to individuals and organizations throughout Nothern Virginia for the past 50 years.
We specialize in exceptional automobile service and strive to ensure the best possible experience for you.
Our warranty covers all of our services and is honored at over 14,000 locations nationwide.
When it's time for your next oil change, state inspection, routine/factory scheduled maintenance or major/minor repair—come
in and see for yourself.
We're looking forward to meeting you!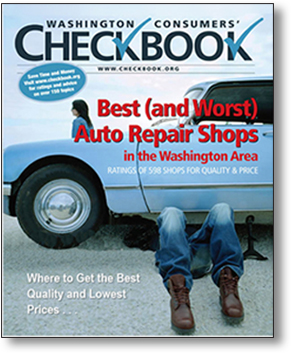 Top Rating for Quality & Price
Washington Consumers' Checkbook
Checkbook Magazine annually evaluates over 500 area auto shops for quality and price, based on more than 19,000 ratings, surveying consumers, consumer-agency complaint records and more than 2,000 price checks and other sources. In their most recent survey, we again received Checkbook's Top Rating for both Quality and Price.
Click this link to see a copy of our scores in their most recent survey rating the Washington Area's Best (and Worst) Auto Repair Shops.
We have continuously received Checkbook Magazine's Top Ratings for over 25 years. We're looking forward to seeing you soon!